Help & Assistance For Rotary Philippine Districts, Inc.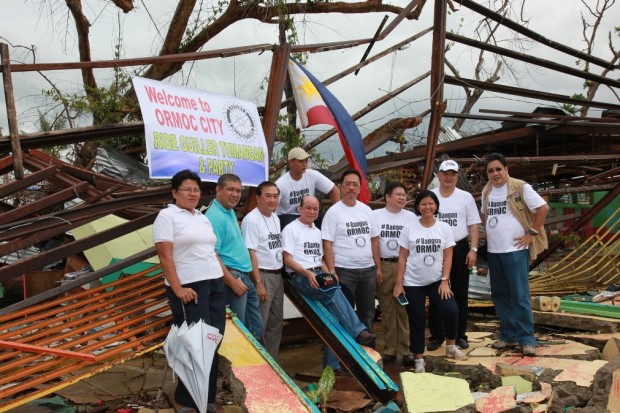 Immediately after Typhoon Haiyan (Yolanda), Rotary Clubs, Rotarians and friends around the world expressed their desire to provide immediate assistance in terms of money, food, clothing, medicine, water and other relief goods to help alleviate the condition of the victims in Visayas. However, there was no centralized point for Rotary communication and coordination to receive, distribute and account for such donations, as well as lead a strategic unified relief operations in the affected areas.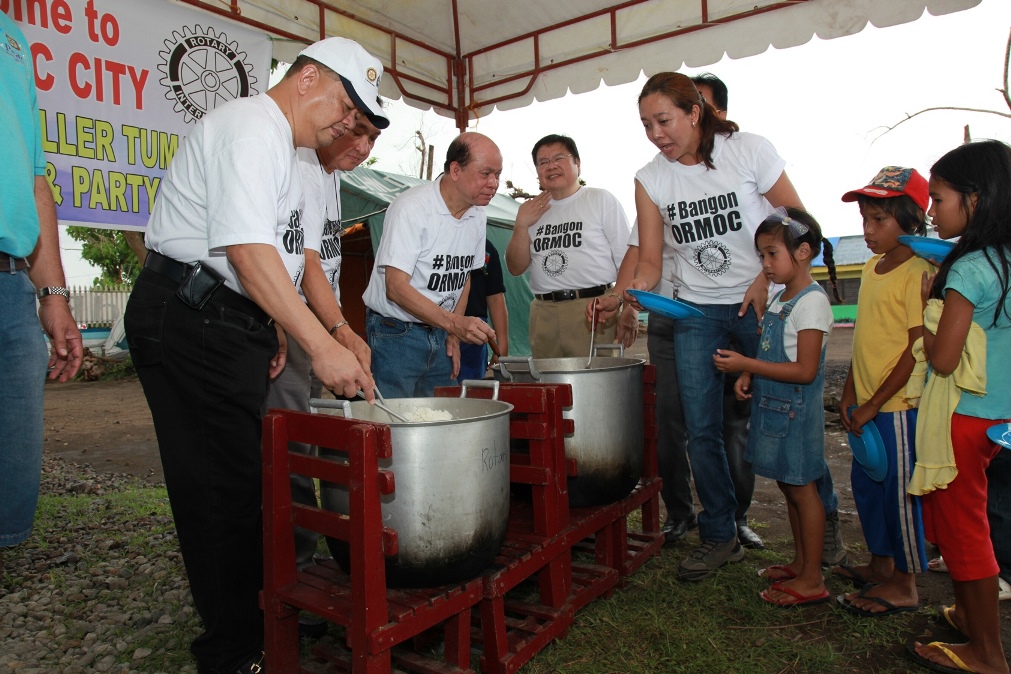 Thus, the Help & Assistance for Rotary Philippine Districts, Inc., or Rotary Helps Philippines, was organized and registered with the Philippine Securities and Exchange Commission (SEC) as a non-stock, non-profit corporation specifically to receive donations and undertake relief, reconstruction work and other humanitarian assistance services in areas affected by natural calamities or man-made disasters, on behalf of Rotarians, friends and other donors.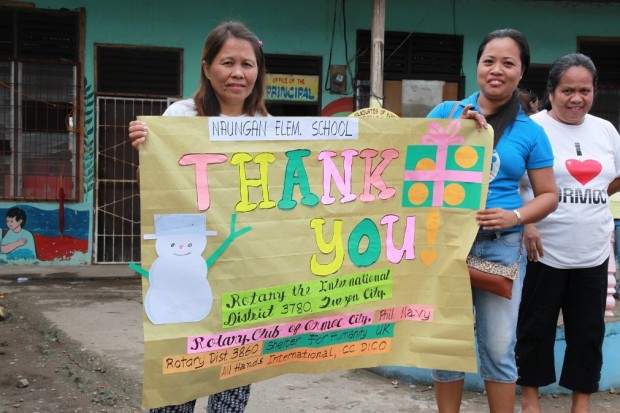 Rotary Helps Philippines immediately began receiving donations for the victims of Typhoon Haiyan and has considered high impact yet doable and sustainable projects that will also build positive public image for Rotary International.  The board of directors, after due deliberation, approved the rebuilding of damaged public schools in the affected areas as its priority project.  Aside from that, it will also undertake other humanitarian projects subject to urgency, necessity and availability of funds.
View relevant HARPDI registration certificates:
| | |
| --- | --- |
| | |
|  HARPDI SEC Registration and Amended Articles of Incorporation |  HARPDI BIR Registration Certificate |
HARPDI's general membership is composed of all Philippine Rotary International District Governors, District Governors-Elect, District Governors-Nominee and Past District Governors.  See complete list of current members. Meanwhile, HARPDI's operation is currently managed by the following set of officers and trustees:
BOARD OF TRUSTEES
PRIP M.A.T. Caparas – Honorary Chairman
RIDE Guiller E. Tumangan – Incorporator & Honorary President
PDG Jesus S. Nicdao – President
DG Angelito E. Colona – Vice President
PDG Corina Tengco Bautista – Incorporator & Corporate Secretary
PDG Jose Francisco Q. Cifra- Incorporator & Treasurer
PDG Eduardo R. Alvarez –  Incorporator & Trustee
PDG Rafael M. Garcia Ill – Incorporator & Trustee
DG Maria Nanette O.Tiam – Trustee
DG Samuel P. Pagdilao – Trustee
DG Dennis Norman T. Go – Trustee
DG Marilou O. Co – Trustee
DG Edmond T. Aguilar – Trustee
DG Casimiro A. de Guia, Jr. – Trustee
DG Joe Jay T. Doctora – Trustee
DG Remegio G. Salanatin – Trustee
DG Manuel U. Along – Trustee
PDG Michael E. Lirio – Auditor
BOARD OF ADVISERS
PDG Antonio P. Tambunting, Jr.
PDG Antonio A. Rufino
PDG Oscar C. de Venecia
PDG Leopoldo P. de Guzman
EXECUTIVE COMMITTEE
PDG Jesus S. Nicdao – Chair
DG Angelito E. Colona – Member
DG Samuel P. Pagdilao – Member
PDG Corina Tengco Bautista – Member
PDG Jose Francisco Q. Cifra – Member
WORKING COMMITTEES:
LEGAL
PDG Edgardo E. Tumangan – Chair
PDG Pablo M. Gancayco – Co-Chair
MEMBERSHIP
PDG Virgilio G. Farcon, Jr. – Chair
PDG James Cesar L. Makasiar – Co-Chair
PROJECT MANAGEMENT
PDG Peter M. Rodriguez – Chair
PDG Edgar T. Sy – Co-Chair
PUBLIC IMAGE
PDG Ursula Consuela L. Lijauco – Chair
PDG Edgardo L. Limon – Co-Chair
BIDS & AWARDS
PDG Herman T. Gamboa – Chair
DGN Edna R. Sutter – Co-Chair
PDG Efren M. Martinez – Member
PDG Virgilio G. Farcon, Jr. – Member
The public accounting firm of Isla Lipana & Co., a Pricewaterhouse Coopers member firm, was engaged to handle the accounting and management of the group's funds from donations and solicitations.  The signatories to the bank accounts are the responsible partners of the firm.  Its audited Financial Statements, at the end of the Rotary Year (July-June), will be rendered by the public accounting firm Deloitte Philippines / Navarro Amper & Co.
Secretariat: Rotary Club of Makati West
Unit 1903 Cityland Herrera Tower, V.A. Rufino cor. Valero Sts.,
Salcedo Village, Makati City  1227, Philippines